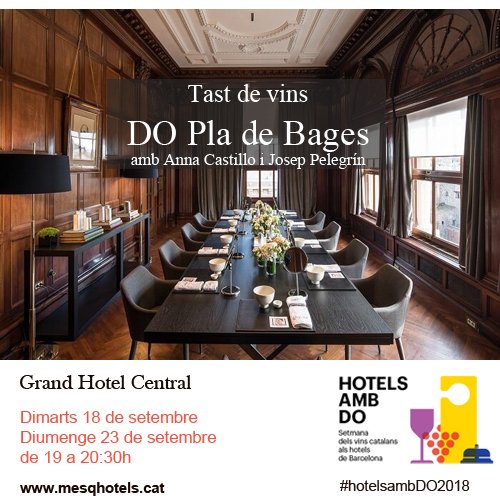 From 17 to 23 September, 21 emblematic and historic hotels in Barcelona organised wine tasting sessions in honour of the Catalan D.O. – denomination of origin. These hotels opened up their most intimate and inspiring spaces to celebrate this event which took place for the seventh consecutive year.
This year, there were 42 tasting sessions and the following Abadal wines were present:
-Abadal Picapoll. Tasting of the D.O. Pla de Bages at the Gran Hotel Central (18/09). Directed by sommelier Anna Castillo.
-Abadal 5 Merlot. General wine tasting sessions organised by INCAVI (Catalan Wine and Winegrowers Institute) in a number of hotels that took part in the "Hotels with D.O." campaign.
"Hotels with D.O. Week" is organized by the guild for hotels in Barcelona in collaboration with INCAVI (Catalan Wine and Winegrowers Institute) with the aim of making the 12 denominations of origin in Catalonia known in a unique and exclusive atmosphere.