Get closer to the spirit of our origins
A tour of the winery is essential in order to understand the soul and authenticity of Abadal wines. We will take you on a journey to the heart of our origins, to discover who we are.
We will go back in time and explore eight centuries of history; we will visit the Masía Roqueta farmhouse, our very own Museum of Industry and Transport, and we will take a tour of the current winery. We finish the tour with a guided wine tasting session. Past, present and future.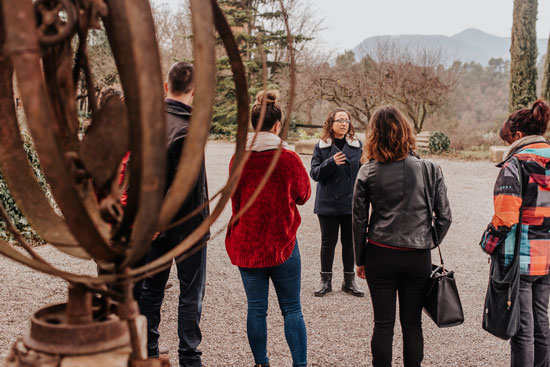 The tour includes:
A tour of the Masía Roqueta farmhouse, which dates back to the XII century. You will go deep into the basement of the house and explore its old cellar, which has been restored to its original state. It is the jewel in the crown of wine history and culture in this region. It is a tour that will take you back in time.
A tour of the Museum of Industry and Transport. This is the family's privately -owned collection, which is dedicated to transport. It includes a display of carriages, old trucks and tools that were used to make wine in the past.
A tour of the winery and the wine-ageing cellar where Abadal wines are made today.
Guided tasting session of three Abadal wines served with appetizers.

Price: Adults 15€ / Children under 12 free

Duration: 90 minutes

Opening Hours: Mondays and Fridays at 11am. Saturdays and Sundays at 10 am and at 12 pm. According to availability (check calendar).
If you would like to arrange a tour at another time, please contact us:
Prior reservation only.
The visit will be held in one of the three languages or bilingual according to the group.