Abadal provides a unique venue surrounded by forest in the region of Bages, and just an hour outside Barcelona.
It is an ideal location for corporate events; conventions, conferences, business meetings, product presentations and corporate dinners.
The possibilities are endless. We also provide a range of activities to make your event memorable, so that the experience is even more complete and enriching.
A professional team will take care of everything you need, by giving you a personalized experience.
7 reasons to visit our winery:
Less than an hour from Barcelona.

A landscape of forest and vineyards that invites you to relax and be inspired.

Unique places of interest in an historic winery with a solid reputation in Bages.

Diverse wine tourism events and teambuilding activities.

Sustainable and committed to the territory.

Dedicated and professional team.

Authentic wines and company know-how.
Els Til·lers Room
Truly majestic
Els Til·lers is a majestic room, measuring almost 350 m2. It is lined with our unique collection of ranci and Muscat wine-aging foudres, which can hold up to 12,000 to 15,000 liters.
This is an ideal venue for large events. The room has unbeatable acoustics and endless possibilities.
Surface area: 344,25 m2 | Dimensions: 40,5 x 8,5 | Price:  On request

–

100 / 200

400

100

400

250
Sant Ramon Room
Charm and spirit
The Sant Ramon Room is an exclusive and enchanting room, with a lot of charm.
This unique venue is ideal for your most intimate events.
Surface area: 104,5 m2 | Dimensions: 11 x 9,5 | Price: On request.

24

16

60

24

130

65
La Pallissa
True authenticity
La Pallissa is for people who love authenticity; it is a cozy venue that dates back to the nineteenth century. The original architecture was maintained during its restoration. This venue is always a pleasant surprise!
Surface area: 160 m2 | Dimensions: 13 x 12 | Price: On request.

–

40

50

32

100

60
Tasting Room
Functionality
This is a venue for those who are looking for a versatile and welcoming room, with unbeatable views of our landscape.
Surface area: 43 m2 | Dimensions: 6,3 x 6,8 | Price: On request.

24

20

40

16

80

30
Gardens
The beauty of our landscape
Live the experience of being surrounded by the beauty and uniqueness of our landscape. Immerse yourself in an exceptional setting. Spirit, nature and tranquility.
Price: On request.

–

100 / 200

250

–

400

250
Complete your event with our services and complementary activities
Complementary Services
In order to ensure that every detail is taken care of, we include a wide range of complementary services that will allow you to fully customize your event and guarantee its success:
Catering and chef hire: we work with an exclusive range of trustworthy and professional local suppliers.

Staff hire: waiters, hostesses, etc.

Personalized attention and event coordination.

Audiovisual equipment: projectors, screens, audio…

Photography and video equipment

Musical settings

Floral decorations and thematic settings

Material hire: tents, chairs, stages, etc.

Transport/Shuttle services

Merchandise design
Complementary Activities
We highly recommend that you complete your corporate event by taking part in one of the many activities we run. It will make your experience at our winery memorable. Find out more!
Wine Tourism Experiences
A tour of our winery is an essential and ideal way to complete your corporate event. We will go back in time to explore nine centuries of the winery's history, and discover its true spirit. This tour takes you to the past, present and future.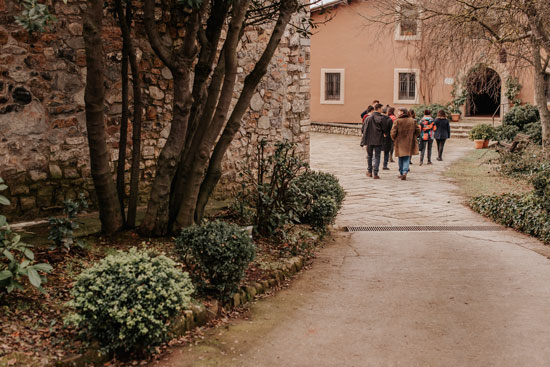 Price: On request
Take this unique trip along dirt tracks, vineyards and woods and breathe in the aromas of the surrounding area. You will discover some of our many vineyard huts dotted around the farm. They are emblematic landmarks for Abadal and the landscape of this region of Pla de Bages. The oldest huts date back 300 years and the most recent ones to the mid-19th century.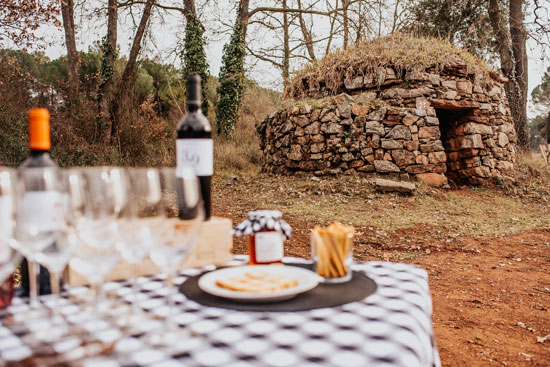 Price: On request.
Teambuilding Activities
Geocatching

Make your own wine

Burricleta – electric bikes

Ipad quest