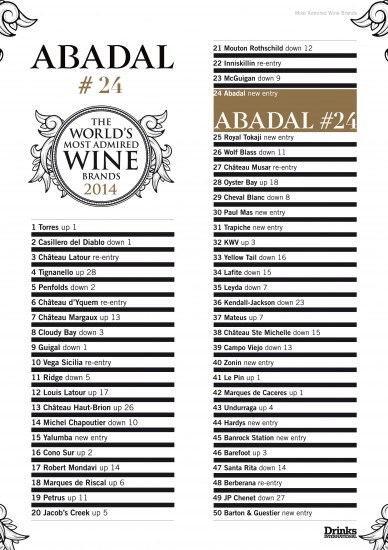 For the first time, the winery from the Pla de Bages D.O. has entered the ranking produced by the prestigious British magazine, Drinks International, as 24th among the "Most Admired Wine Brands of the World".
 Voting is anonymous and secret, involving more than 220 wine experts from 25 countries. And ABADAL, in its first appearance on this prestigious list, has been ranked directly among the top 50, coming 4th among the Spanish brands after Torres, Vega Sicila and Marqués de Riscal.
 The winery was founded by the Roqueta family in Santa Maria d'Horta d'Avinyó (Bages county) in 1983, on land close to the family house, with more than 8 centuries of history and a long winegrowing tradition.
 "Achieving this excellent position in the ranking recognises our work and represents a significant boost for our winery, our team and our wines" said Valentí Roqueta, President of Abadal. "It's a distinction with an international dimension and is given by people in the industry, which fills us with pride. Recognition for our work, founded on great commitment to our region and consolidating the philosophy of expressing, with Abadal wines, the uniqueness of our land, the Pla de Bages".
The group of experts that made up the voting academy comprised Masters of Wine, consultants, oenologists, sommeliers, wine writers and analysts. The academy members were asked to vote for between 3 and 6 wine brands they admire the most, with which they have no association, based on the following criteria:
• The wine should be of established quality
• It should reflect its region or country of origin
• It should respond to the needs and tastes of its consumers
• It should be well distributed and packaged
 • It should have strong appeal in international markets
 • It should work to promote tourism and gastronomy for its region
 In the case of Abadal, crucial to its ranking is the winery's leading role in recovering the wine industry in the Bages region, reinforcing the uniqueness of its local vines and its heritage, both architectural and rural.
The final list was published in the March edition of the magazine, in the supplement "50 Most Admired Brands 2014". Drinks International is a publication set up in 1969 and devoted exclusively to the global spirits, wines and beers market. It's a benchmark for the sector, providing its readers with useful information about the latest news and projects carried out, as well as trends in the global drinks business, specialist publications, market reports and news analysis and opinion.