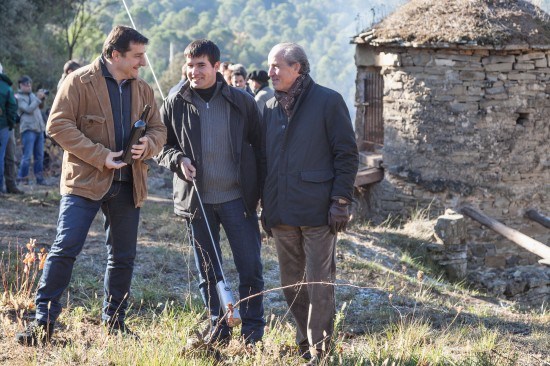 Abadal reaffirms its commitment to the region by recovering a unique heritage in Europe: "vi de tina" wines
Bodegas Abadal has held an event this 26 november to demonstrate how it's recovering the vineyard and stone vat of Mas Arboset.
Presented by the winery's oenologist, Miquel Palau and its owner, Valentí Roqueta, participants were taken by 4×4 to get to know the history of the stone silos and vats at Vall del Flaquer, a legacy of dry stone architecture that's unique in Europe.
Afterwards they visited the stone vat at Mas Arboset, a small but superb example of 19th-century architecture. At the bottom of this "tina", participants were able to watch as the wine was drawn off by Miquel Palau. After Mr. Valentí Roqueta had expressed his appreciation, participants enjoyed an interesting comparative tasting led by Miquel Palau and Josep Roca, an expert in stone vats and one of the people behind this project. This tasting consisted of three samples of "vi de tina" or vat wine, at three different stages: at the end of fermentation, halfway through the process and after a long maceration. A unique oenological project offering a journey of the senses through time, capable of evoking the "know-how" of another era and transporting the landscape of a unique environment to the glass.
Miquel Palau highlighted the "easy-going palate and aromatic freshness" of the wine from the first devatting (21 October) while for the second, drawn off on 7 November, he noted "its powerful fruit and sensations of fennel, with a surprising palate thanks to its lively structure". And for the third devatting, carried out on the very day of the tasting, he noted "that it's a much more extreme wine, conjuring up sensations from another era".
The guests then enjoyed a typical vineyard lunch at Mas Arboset, paired with ABADAL PICAPOLL and ABADAL 3.9; the winery's single vineyard wine, ending with Ànima de Picapoll, a spirit made from the Picapoll variety.
For some time now Abadal has been striving to recover stone vats to revitalise this spectacular heritage: a combination of civilisation, countryside and culture. Mas Arboset is the culmination of this process. Work has been carried out on this estate to reclaim a vineyard that's more than 70 years old, with the varieties of Sumoll, Pansera, Punxó Fort, Garnatxot and others.
The Mas Arboset project is an example of the hard work carried out by Celler Abadal to preserve its commitment to the region and confirm its philosophy of expressing the uniqueness of a land through its wines. It was founded in 1983 by Valentí Roqueta in Santa Maria d'Horta d'Avinyó (in the county of Bages), on land close to the family's home with more than 8 centuries of history and a long winegrowing tradition.
Leading figures from institutions, the world of gastronomy, the media and members of the cultural sphere were invited to this event.