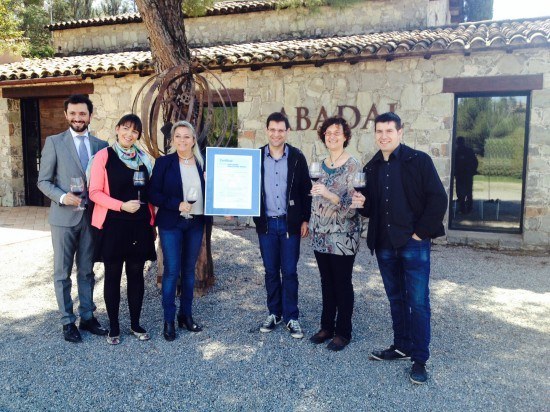 On the 23rd of April, 2014, at the Abadal Wine Tourism Centre, this winery from the Pla de Bages D.O. received its Wine Tourism Certificate after being audited by TÜV Rheinland Ibèrica, Certification, Inspection & Testing, SA, thereby becoming the first company certified by TÜV Rheinland for this standard.
Abadal stands out for its clear commitment to Wine Tourism. The aim of this certificate is to establish the requirements that must be met by organisations providing tourism services related to the concept of "Wine Tourism", understood as an activity aimed at enhancing and managing the wine-related assets of a specific region.
With this certificate, the Abadal winery has managed to improve its image, increase its customer satisfaction and achieve recognition by the tourism, wine-growing and wine-producing industry as well as its clients and, from now on, this certificate will add value to its promotional and marketing activities.
The winery was founded by the Roqueta family in Santa Maria d'Horta d'Avinyó (Bages county) in 1983, on land belonging to the family estate, with more than 8 centuries of history and a long winegrowing tradition.
"Achieving this important certification recognises our work based on great commitment to our region, and consolidates the philosophy of expressing the uniqueness of our land, the Pla de Bages, through Abadal wines" said Valentí Roqueta, Chairman of Abadal. "Our wines come from the region and from its countryside, and wine tourism allows us to welcome visitors to the winery who enjoy sensations and aromas that evoke the characteristic landscape of the Bages region. First we put the countryside in a glass and then, through wine tourism, we make them come back and discover the origin of the wines as well as everything else that surrounds them: gastronomy, countryside, culture… "
The certificate was received by Mr. Miquel Palau, Oenologist at Abadal, Mr. Jordi Vall, Head of Quality and Ms. Anna Castillo, Head of Wine Tourism. On behalf of TÜV Rheinland, the certificate was given by Mr. Gonzalo de Castro, C.E.O., Mr. Esteve Regales, Director of the East-Island Regional Area of Systems Certification and Ms. Susana Vendrell, Head of Tourism Trade.