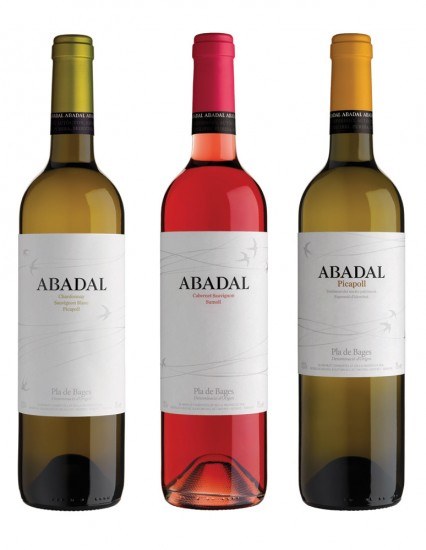 The new vintage of Abadal young wines is now available, notable for their good acidity and freshness. The main feature of 2013 is that there was no extreme heatwave: the summer was mild with moderate temperatures that lasted up to the beginning of autumn, maintaining the usual range of temperatures in our region.
Abadal Picapoll: Balsamic and intense
(Picapoll: 100%)
The weather in 2013 has produced a wonderfully fresh Abadal Picapoll with excellent aromatic complexity. It ranges from ripe pineapple to citrics and fresh yellow fruit (apricot), without forgetting the region's typical balsamic aroma which becomes even more prevalent in years such as 2013. On the palate the acidity this year has augmented the effect of the lees, evident in its unctuousness.
Abadal Rosado: With more sumoll and freshness
(Cabernet Sauvignon 80%-Sumoll 20%)
The 2013 rosé retains the enjoyable style so typical of this wine with its sweet red fruit particularly coming to the fore (plum, wild strawberry, raspberry) over a background of fennel that boosts the sensation of freshness. The palate stands out for its final fresh sensation that balances the volume of the fore-palate. For this vintage we've increased the percentage of Sumoll (20%) to boost the sensation of freshness and broaden the aromatic complexity towards wild red berries (typical of the Sumoll variety).
Abadal Blanc: More autochthonous and complex
(Chardonnay: 40%-Sauvignon Blanc: 30%-Picapoll: 15%-Macabeo: 15%)
The 2013 white has combined the Abadal white with the local Macabeo variety, enhancing the complexity of aromas and tastes towards memories of white fruits and floral touches. Exotic fruit predominate with balsamic hints (white mint) in a year very much marked by aromatic freshness.
More information: ABADAL
www.abadal.net – info@abadal.net
Facebook: Bodegas Abadal
Twitter: @vinsabadal