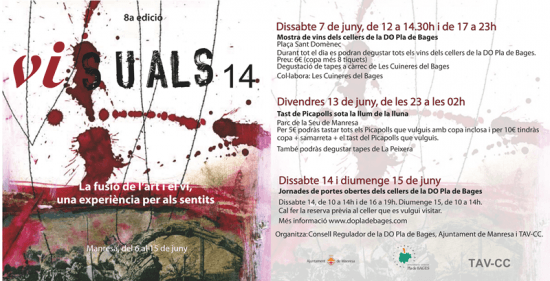 From the 6th to the 15th of June, Manresa and the count of El Bages once again celebrated VI_SUALS, a project that aims to unite the shared values of the art of wine and culture. This project, now in its eighth year, is possible thanks to the cooperation of the Pla de Bages D.O., the Board of Visual Arts of Central Cataluña (TAV-CC) and Manresa Council.
For ten days, a wide range of activities have been held in the city and the county related to the world of wine and art: art events, talks and conferences, wine fairs and open days at wineries.
Abadal took part in the following activities:
* Wine fair: our wines were present at the tasting organised in Plaça Sant Domènec on the day of the official inauguration.
 * Picapoll tasting: our Abadal Picapoll was one of the wines in the Picapoll tasting held under the moonlight at La Seu.
* Open days: more than 200 people enjoyed two open days held at our winery.